8 Considerations for Planning an Eco-friendly Birthday Party
8 Considerations for Planning an Eco-friendly Birthday Party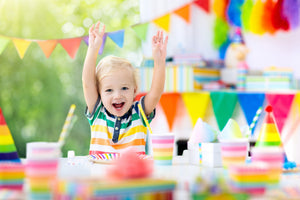 Birthdays are a time of joy and celebration, but parties can generate a lot of waste that is ultimately damaging to the environment. Fortunately, with a bit of planning and creativity, it is possible to throw an eco-friendly birthday party for kids that will be both fun and sustainable.
1. Choose an eco-friendly location
When planning a birthday party, consider the location. Keeping it local will reduce the need for unnecessary travel emissions. Consider whether the venue is accessible by foot and/or public transport. If you need to rent a venue, look for one that implements sustainable practices such as recycling, composting, and use of renewable energy. An outdoor space could be the way to go : a more natural setting will reduce the need for energy-intensive lighting and heating/cooling systems.
2. Send paperless invitations
Instead of sending old-school paper invitations, the environmentally friendly alternative is to use e-invites. There are many websites that offer free templates for digital invitations. You can also create a Facebook event to invite your guests, which will make it very easy to keep track of who will be attending, as well as providing a forum for questions, updates and reminders.
3. Request no gifts
Most people still hold to the assumption that they should bring a gift when invited to a birthday party. Unfortunately, this often means that the hosts are left with copious amounts of unnecessary wrapping paper, cards, and packaging to dispose of, while their child accumulates toys that they don't particularly want or need. It's a great idea to suggest something in lieu of a wrapped present that your guests could bring or contribute to the party :
a donation to a chosen charity;
a plate of food to share;
a book with a handwritten note inside;
money for your child to put towards something they really want;
or maybe a second-hand toy or hand-me-down.
4. Use eco-conscious decorations
Decorations are an important part of any birthday party, but they can also prove to be quite wasteful. Keep in mind that reusable items are a much greener option than those intended for single use. Avoid plastic and stick to more sustainable decorations such as paper streamers, colourful fabric bunting, and materials gathered from nature, like flowers. Consider foregoing balloons altogether - not only are they terrible for the environment, but the helium commonly used to fill them is a dwindling resource.
5. Choose eco-friendly tableware
Thankfully, single-use plastic tableware such as plates, cups, and utensils have become a thing of the past. Similar products are now manufactured from more eco-friendly materials like bamboo; but once again, when sustainability is your goal, reusable options are preferable to disposable ones. In many areas there are hire services that offer these types of items - try a Google search for eco-friendly party hire. You could also purchase tableware from thrift stores and pass it on (or donate it back) after your event, or even ask your guests to bring their own cups and plates.
6. Serve sustainable food and drinks
When planning the menu for a birthday party, local seasonal produce is usually the most sustainable choice, while vegetarian and vegan options typically have the least environmental impact. You can cut down on plastic packaging by making your own homemade treats, or outsource this task to a local small business. For kids, think fruit skewers, homemade veggie chips, energy balls, trail mix, frozen fruit popsicles and popcorn. Use a refillable drink dispenser instead of single-use bottles. Try not to over-cater so there is not a lot of food waste, and send any excess food home with guests.
7. Plan eco-friendly activities
There are many eco-friendly activities and games for kids that you can incorporate into a birthday party. You could choose an activity that focuses on the natural environment, like a nature scavenger hunt; or a seed-planting station. If you'd prefer to stick to a theme or traditional party games, you can still do so while being mindful of the environment and reducing waste. For instance, children love doing simple cooking activities or arts and crafts using recycled materials and these could be done in keeping with a theme; outdoor games that don't require any special equipment are also ideal. If your games involve giving out prizes, avoid plastic items and single-use packaging. Some better ideas are small wooden toys, seed packets, or recycled paper notebooks.
8. Give zero-waste party favours
Handing out party bags filled with lollies and cheap plastic toys to children who attend a birthday party is a long-standing tradition. And though it may bring back a certain nostalgia for many of us, we know this is wasteful and detrimental to the environment. It's time to move on. While of course it is totally acceptable to skip the party favours entirely, it's also easy enough to put an eco-friendly spin on tradition. Forget the wasteful plastic bags and toys that will go straight in the bin. Try paper or fabric bags that can be recycled, composted or re-used. Give items that will have a long life : such as a seedling to plant, a reusable drink bottle, or a small toy (thoughtfully chosen to be kept, not binned). You could make your own gifts : like seed bombs or recycled crayons. Edible treats can be homemade from sustainable ingredients. Perhaps the children could make something as an activity at the party that they could then take home to keep, like in the examples above.
At The Toy Chest Australia, we specialise in mindfully chosen, eco-friendly gifts for kids from ethical brands. As well as great gift options for the birthday kid, we have a collection of party favour ideas for those seeking out sustainable alternatives to traditional and wasteful loot bags.
Throwing a children's birthday party with the environment in mind is not as daunting as it seems. With a bit of thought but not too much effort, you can reduce your impact on the environment while inspiring others to do the same.