Tiger Tribe : Brand Spotlight
Tiger Tribe : Brand Spotlight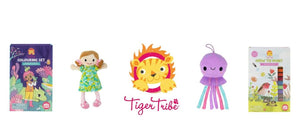 Tiger Tribe are an Aussie brand close to our hearts here at The Toy Chest. Not only do we adore their products, we also wholeheartedly embrace their mission to protect our natural environment: by supporting conservation efforts, and by aiming for sustainability in all they do.
Tiger Tribe create beautiful, compact and portable craft kits, as well as toys for babies through to age 12. These products are designed here in Australia, they're packed with educational value, and will keep those little hands busy with screen-free entertainment.
Committed to excellence, Tiger Tribe products meet, and more often, exceed the strictest international standards for quality and safety.
We especially love the wide range of portable arts & crafts kits Tiger Tribe offer. These come with all the materials needed for the activity, which can then be packed away in a compact, magnetic-sealed storage box. They are of fantastic quality and the artwork and designs incorporated are always cute, fun and appealing to kids.
Check out one of our customer favourites, the Vintage Paper Dolls kids craft kit. Filled with beautifully illustrated outfits and accessories to decorate (using the stickers and coloured pencils provided), this clever kit has everything you need to bring your doll to life!
Just like The Toy Chest, Tiger Tribe feel a responsibility to care for the environment and to help ensure a sustainable future for our kids. So far in their ongoing sustainability efforts, they are :
Removing or finding alternatives to plastic in their packaging and products;
Switching to sustainable raw materials where possible;
Communicating the recyclability of their products at end-of-life;
Improving the sustainability of their distribution channels by switching to more eco-friendly packaging materials.
They also make regular contributions to the Foundation for National Parks and Wildlife, collaborate with not-for-profit organisation Earth Crusaders, and have an ongoing partnership with the Great Barrier Reef Foundation.
We are very excited that Tiger Tribe have begun creating their ECO range, made with innovative bioplastic. Bioplastics are a family of polymers made of renewable and/or biodegradable materials instead of fossil fuels. All ECO range products are made using at least 70% bioplastic, and the packaging is FSC certified and free of plastic.
Currently (as of November 2023) from the ECO range, The Toy Chest stocks Tiger Tribe's Rockin' Rollers - an awesome and unique little product that's just perfect for toddlers. These roly-poly pets are designed to rock and wobble on their bases. Remove the base and press down to discover a self-propelled wheely toy that will zip across the room.
Tiger Tribe exemplifies quality, creativity, and sustainability. We can't wait to see what they come up with next!
Please browse our selection of products from this fabulous brand here : Tiger Tribe